Canadian thrashers Aggression are streaming the song "Unleashing The Ghost".
"Unleashing The Ghost" comes from the band's upcoming album Fragmented Spirit Devils which is due out in October.
Fragmented Spirit Devils is the follow up to 2015′s Fractured Psyche Demons (Galy Records).
In addition to the album and the new song, Aggression is embarking on a tour next month.
The tour is a North American tour called Demons of the West Coast that includes eleven shows in the month of June and kicks of in Vancouver.
Aggression will also headline a European tour in November.
Check out the tour dates as well as "Unleashing The Ghost" here.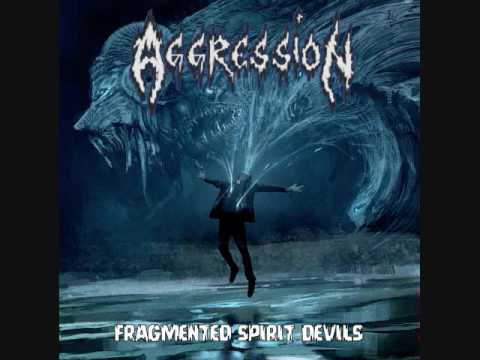 Album Artwork by: Noah Stacey
Fragmented Spirit Devils Track Listing:
1. At Play In The Fields Of Satan
2. Chapel Of Horrors
3. Unleashing The Ghost
4. Insanity Without Indulgence
5. Halo Of Maggots
6. Furnace Creek
7. Dark Shadow Crossing
8. Strangulation Ejaculation
9. Evil Pox 2016 A.D.
10. Razamanaz (Nazareth cover featuring Manny Charelton from Nazareth on guest guitar solo)
June 10 - Vancouver, BC – The Rickshaw Theatre
June 17 - Seattle, WA – Substation
June 18 - Bremerton, WA – The Charleston
June 19 - Portland, OR – Ash Street Saloon
June 20 -  Eugene, OR – Old Nick's Pub
June 21 - San Francisco, CA – The Elbo Room
June 22 -  Los Angeles, CA – The Lexington
June 23 -  Las Vegas, NV – OMD Theatre
June 25 - Boise, ID – Eclypse Bar
June 26 - Spokane, WA -  The Pin
30th Anniversary: Return of the Frozen Aggressors
European tour dates (w/ German Thrash band Hateful Agony supporting)
November 2016
Nov 2 – Augsburg, GER
Nov 3 – Nurnberg, GER
Nov 4 – Paris, FRA
Nov 5 – Brussels, BEL
Nov 6 – Amsterdam, NED
Nov 7 – Hamburg, GER
Nov 8 – Berlin, GER
Nov 9 – Warsaw, POL
Nov 10 – Prague, CZE
Nov 11 – Vienna, AUS
Nov 12 – Budapest, HUN
Nov 13 – Bucharest, ROM
Nov 14 – Sofia, BUL
Nov 15 – Athens, GRE
Nov 16 – Thessaloniki, GRE
Nov 17 – Belgrade, SER
Nov 18 – Padua, ITA
Nov 19 – Milan, ITA
Nov 20 – Turin, ITA
Nov 21 – Frankfurt, GER
Nov 22 – Essen, GER
More News On Aggression: