It's been 35 years since Motörhead released No Sleep Til Hammersmith (arguably one of the top ten live records ever). England may be more divided over Brexit than they have been about anything in a long time, but one thing the whole world loves is Motörhead. So how does Clean Your Clock stack up, a very late career Munich 2015 performance ? While it aint a career changing live opus, it can't be declared a post-death cash in either. Hearing the love and grit in the songs and Lemmy's rattling and killer bass tone as the band hold court, you can't help but get that "rock n roll will never die" feeling, even if we now know that even God is mortal.
The DVD is more kind than the audio, seeing a huge and adoring crowd, but the band soldier on and usually sound musically awesome even though vocally Lemmy is very tired sounding here and there and struggling. But it makes you love the guy even more.
"Bomber" sounds great even if Lemmy is already sounding pretty winded, but the drive and the fact he is still trying says so much. His ability to project his already limited (if awesome) vocal range is certainly limited compared to the band's biggest glory days, but while it makes you sad here and there to hear Lemmy sounding old and short of breath, the band still can "clean your clock" up there with the best of them. Seeing them for the second time just a few years ago at Mayhem, they stole the show from Slayer and Slipknot! All I'm saying is you could do far worse than this by purchasing some new bands live albums. And you CERTAINLY ought to own Bad Magic, the final studio effort Lemmy and the boys turned in because it is beastly.
In a divided world, it is amazing that a band as uncouth and unapologetic as these guys brought so many types of folks together to rock.
More BELOW.
"Over The Top" is a real winner here, Mikkey Dee proving for the umpteenth time why he is still one of the coolest drummers ever and Mr. Phil Campbell positively on fire with bluesy leads over Lemmy's rolling Rick. The slightly slower stuff comes off a bit more powerful, as Lemmy holds his own really well on "Dr. Rock" (dedicating it to Philthy Animal Taylor who died last week") and a great "No Class" ("Here's another oldy, not moldy" quips Lemmy). A twangy and stripped down "Whorehouse Blues" is pretty fun, coming off like a blues song and thus Lemmy's lack of projection at this stage isn't so sadly distracting as on "Lost Woman Blues" from Aftershock (but what a great riff that tune has)! "Ace Of Spades" is kind of sad, Lemmy really seeming vocally spent and holding on, but you still can't help but love the living shit out've the guy. Hearing him trying so hard vocally on "I don't want to live forever" is pretty intense, but rather than being morbid this November 2015 jaunt is far and away more a stubborn testament to never giving up on your rock n roll dreams.
These guys will never be replaced. I'd be lying if if I said you couldn't hear the wear and tear but it scarcely matters as the band are still the stuff of legend. Even just hearing Lemmy's pre "Rock It" banter will bring a big smile to any real rock fans face, and the music still sounds good and loud.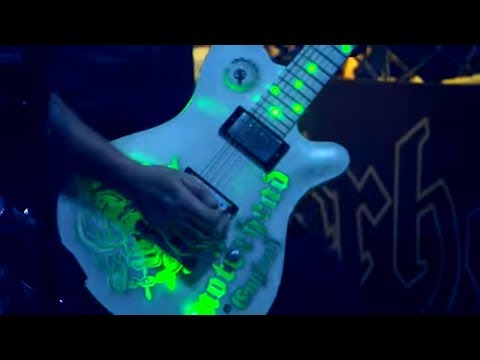 Pre-order Clean Your Clock here:
Coloured Double Vinyl in Gatefold with Pop-up Art
http://smarturl.it/MH-CyC-Az-LP
Standalone Audio CD Jewel Case:
http://smarturl.it/MH-CyC-Az-CD
CD / DVD, Gatefold with Pop-up Art:
http://smarturl.it/MH-CyC-Az-DVD
BluRay / CD, gatefold with Pop-up Art:
http://smarturl.it/MH-CyC-Az-BR
Digital Download:
http://smarturl.it/MH-CyC-Az-MP3
Limited Edition Box Set standard zinc alloy 'MOTÖRHEAD Forever' edition:
http://smarturl.it/MH-CyC-Az-LP-Box
Limited Edition Box Set Silver / Gold Pin edition exclusive via UDR:
http://bit.ly/24jmSdS