Utah deathcore trouble makers Chelsea Grin have released a music video for their song "Never, Forever".
"Never, Forever"  comes off of Self-Inflicted which is out today!
From the opening note of this song my love for Chelsea Grin and deathcore is reaffirmed. Covering the emotive topic of heartbreak ("There was nothing I could do to make you stay // I just wish all this pain would go away!") Chelsea Grin never compromise their sonic heaviness.
Chelsea Grin are on Warped Tour all summer long!
Check out the video and lyrics for "Never, Forever" here.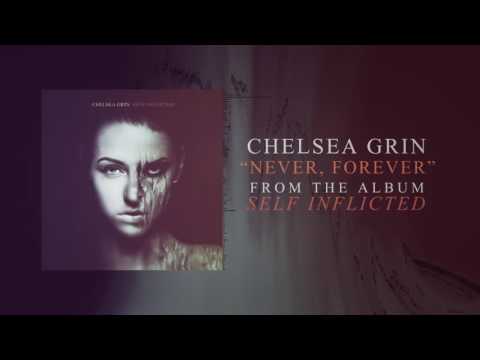 There was nothing I could do to make you stay
I just wish all this pain would go away
I guess I never knew what happiness really was
If i did, I'd choke it down, I'd take it like a drug
I guess I never knew that it would hurt so much
If i did, I'd spit it out, and never feel your touch
I guess I'll never know
What it's like to find
That perfect match to live up to this life of mine
This is a song about another broken heart
I wish I knew, I wish it ended from the start
I never meant for my actions to abuse you
On second thought, I wish I never met you
To all the nights that I lay awake in bed
Tossing, turning, thinking what if I was dead
I never meant for my actions to abuse you
On second thought, all I really need is you
And I need you now
Now your image seems to slowly fade away
I just wish my pain would do the same
I guess that now I know how misery really feels
It's a fact, like heart attack, I have fallen off track
I guess I never knew that I would feel so numb
But I stayed, I wouldn't run, and you just gave up
You gave up everything
Just through away our dream.
Now looking back, we were never meant to be
This is a song about another broken heart
I wish I knew, I wish it ended from the start
I never meant for my actions to abuse you
On second thought, I wish I never met you
To all the nights that I lay awake in bed
Tossing, turning, thinking what if I was dead
I never meant for my actions to abuse you
On second thought, all I really need is you
And I need you now
But all you bring is pain
My heart bleeds in vain
This is a song about another broken heart
I wish I knew, I wish it ended from the start
I never meant for my actions to abuse you
On second thought, I wish I never met you
To all the nights that I lay awake in bed
Tossing, turning, thinking what if I was dead
I never meant for my actions to abuse you
On second thought, I never really needed you