Detroit noise rockers Child Bite have announced a North American conquest.
Child Bite will be doing a string of dates themselves before joining up with Voivod and King Parrot to take over the United States and Canada.
Check out tour dates, a live video performance of Child Bite at the 2016 Detroit Music Awards as well as a comment from vocalist Shawn Knight here.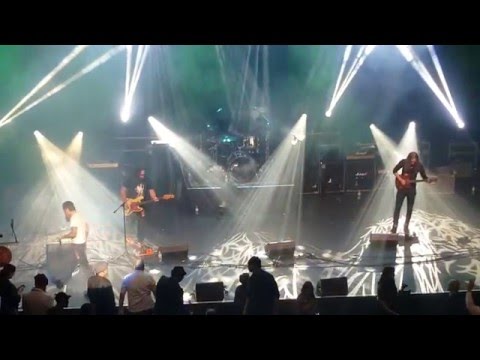 Vocalist Shawn Knight on the upcoming tour:
"Myself and the other three morally-grounded-yet-uniquely-flawed man-boys known as CHILD BITE are chomping at the proverbial bit to put a major dent in our new van's odometer in the name of Negative Noise. First, we've got two hometown record release shows happening this weekend that we're trying to pressure our friends into attending. Next, we take off the very next day, which happens to be my wife's birthday (I know, I am the worst), to head down to Uncle Phil's infamous Nodferatu's Lair to record a few brand new songs for future Housecorian split 7″s. After a mere forty-eight hours in New Orleans, we haul ass to San Antonio where some Mexican dudes that we hardly know are gonna escort us deep into their mysterious country. We figured CHILD BITE should pop its Mexico cherry before Dictator Trump erects his Wall Of Fear And Racism®. A few days later, we meet up for a six-plus week-long tour with our Australian pals King Parrot and the most appropriate band for CHILD BITE to tour with ever, Voivod. Holy hell. To anxiety… and beyond!"
Stream Child Bite's latest Negative Noise via New Noise Magazine.
CHILD BITE:
5/06/2016 Majestic Cafe – Detroit, MI Record Release Show
5/07/2016 Sanctuary – Detroit, MI Record Release Show
5/12/2016 Bar El Confesionario – Saltillo, CO
5/13/2016 Patio Café Iguana – Monterrey, NL
5/14/2016 Gato Calavera- Ciudad de México, DF
5/15/2016 Foro Independencia – Guadalajara, JA
w/ Voivod, King Parrot:
5/19/2016 Gas Monkey – Dallas, TX
5/20/2016 The Rock Box – San Antonio, TX
5/21/2016 Barracuda – Austin, TX
5/23/2016 Scout Bar – Houston, TX
5/25/2016 Aggie Theatre – Ft. Collins, CO
5/26/2016 Marquis Theatre – Denver, CO
5/27/2016 Liquid Joes – Salt Lake City, UT
5/28/2016 Vinyl / Hard Rock Café – Las Vegas, NV
5/30/2016 The Rebel Lounge – Phoenix, AZ
5/31/2016 Green Room – Flagstaff, AZ
6/01/2016 Brick By Brick – San Diego, CA
6/02/2016 The Whisky A Go Go – Los Angeles, CA
6/03/2016 The Underground – Santa Ana, CA
6/04/2016 Strummers – Fresno, CA
6/07/2016 The Ritz – San Jose, CA
6/08/2016 Slims – San Francisco, CA
6/09/2016 WoW Hall – Eugene, OR
6/10/2016 Dante's- Portland, OR
6/11/2016 El Corazon – Seattle, WA
6/12/2016 Distrikt – Victoria, BC
6/13/2016 Rickshaw Theatre – Vancouver, BC
6/15/2016 Dickens – Calgary, AB
6/16/2016 Starlight Room – Edmonton, AB
6/17/2016 The Exchange – Regina, SK
6/18/2016 Good Will Social Club – Winnipeg, MB
6/19/2016 Crocks – Thunder Bay, ON
6/21/2016 Call The Office – London, ON
6/22/2016 This Ain't Hollywood – Hamilton, ON **
6/24/2016 Hard Luck – Toronto, ON w/ Psycroptic **
6/25/2016 Amnesia Rockfest – Montebello, QC
6/26/2016 La Source De La Martiniere – Quebec City, QC
6/27/2016 Nectar's – Burlington, VT **
6/28/2016 Once – Somerville, MA **
6/29/2016 Saint Vitus Bar – Brooklyn, NY **
6/30/2016 Kung Fu Necktie – Philadelphia, PA **
7/01/2016 Smiling Moose – Pittsburgh, PA #
7/02/2016 Grog Shop – Cleveland, OH #
** w/ King Parrot (no Voivod)
# CHILD BITE only
More News On Child Bite: