Worshipper are a band who seem to be on the lips of everyone these days, which is not a lame cliche rock hedonism joke as much as it is a simple way of saying the Boston band have built up a massive buzz. After wowing crowds and hustling hard with their brand of 70′s influenced full on swaggering rock, the band earned a highly enviable signing and thumbs up vote of confidence from none other than Tee Pee Records.
They have an album now called Shadow Hymns that is sure to keep the fans and critical praise headed their way. It is a simple fact that you cannot listen to this band and walk away with any perception other than that they really believe in AND LOVE rock and metal.
Read more below.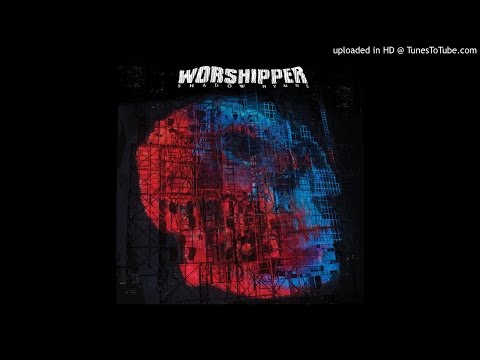 Hi Bob, how are you? I guess…where to start? Your band has been building quite the buzz but really a lot of it is from old fashioned live show response word of mouth. It is really cool to see that these days when sometimes bands sort of get ahead of themselves before they really have something solid. It is one thing if you are Spirit Adrift, which was one dude who wrote songs and then built it up to a live band, but…did you always sort of know this was the way to go with Worshipper?
BM: Hey Morgan, all is good here. Yeah, we came into this project with some solid ideas of what we wanted and what we didn't want to do with the project. One of the goals was to try to avoid beating a song to death in the rehearsal space. We often bounce riffs around at practice to loosen up but much of the songwriting happens by coming up with material outside of the rehearsal space and then posting the material via Dropbox. It sometimes goes back and forth a few times before it even gets work on in the practice space. We feel this has helped define the direction of the band and really helps to expedite the writing process.
 Is the band name sort of about being happy to be alive or sort of a similar statement to Anthrax's Worship Music album title? Like, happy to be part of rock n roll?
BM: I think we all have a different answer to this one. For me it's about having some sort of deep connection to the music. I feel like the act of sitting down to listen to a record can be a very ritualistic and rewarding experience. Pulling out a record, taking it out of the sleeve, checking for scratches, putting it on the turntable, looking at the album credits, reading the lyrics, flipping it over etc. I remember staring and studying the album covers of bands like Iron Maiden, Black Sabbath and Judas Priest for hours as a kid, it was the thing I was devoted to.
The bottom line though, it was a challenge to come up with a name that we all liked. When this one came up we all felt good about it so it stuck.
 How did the record deal come about? We're thrilled for you guys.
BM: Right on man, there are so many amazing bands on Tee Pee, we're psyched to be a part of such a great roster. Our guitar player Alex has another band called Township and they have played a few shows with some Tee Pee bands and he kept in touch with the label over the years. Last summer we were invited to play their Cosmic Sonic Rendezvous weekend showcase at the Wick in Brooklyn which was a great chance to start a dialog with them about potentially working together.
You have such a truly big sound. Was it always a goal to bring back a certain sort of classic volume emphasis? I'm seeing Blue Oyster Cult mentioned a lot when people are talking about you.
BM: Well, our goal was to exist in a space that flows between a variety of genres. We all come from some diverse backgrounds, mostly loud heavy influences, but we all grew up on really melodic and dynamic bands like the Beatles, Pink Floyd, Deep Purple and BOC for sure, so that sort of song crafting has definitely rubbed off on us. But on the other hand we also didn't want to come across as an obvious throwback band either so we're careful to not tip our hats too far in one direction or the other.
What was it like working with Benny Grotto (Aerosmith, Orange Goblin) and David Minehan (The Replacements) on the record? From what I have heard of "Darkness" and other material out so far, you got killer sounds. It reminds me of some of the Witchcraft stuff a little bit with these big vintage sounds but the vocal is nice and prominent like something a bit more modern.
BM: We've all worked with Benny in our previous projects so it was a no-brainer to get back in the studio with him for the record. I feel like he does a great job capturing the essence of whatever band he records without leaving too much of his own influence on the material. We only did one song with Dave Minehan but it was a really cool experience. We applied to the Converse Rubber Tracks recording sessions and were chosen to participate and were psyched when we found out we were going to be working with Dave. He's a boston rock legend and has a great ear.
How was your record release in-store party with Zip-Tie Handcuffs?
BM: Well, it's actually 2 events. We did the In-Store at the Norwood Newbury Comics yesterday by ourselves and we have the record release show with Zip-Tie Handcuffs, Devil's Twins and Swivel coming up Sept 9th. Teepee worked out a special deal with Newbury to do a special limited edition pressing of the record of 150 copies on a red/maroon vinyl, the regular Teepee pressing is 1000 copies on a blue vinyl.
The In-Store show was awesome, lots of people came out and Newbury sold a ton of copies of the record. We have a long history with Newbury, our drummer Jarvis works there and we've all had friends work there over the years. The Norwood Newbury Comics has a giant illuminated sign on the highway which is the famous "Auto Mile" in MA. For the weekend they put our logo up on the sign which was so cool. They even had one image of the logo with Jarvis' giant head in the "O" of Worshipper which was hilarious.
The Boston area and surrounding regions like Worcester, etc. have a lot of hard rock, hardcore and metal history from Aerosmith to Boston to friggin' Killswitch Engage and Slapshot. How did the region shape who you are as a band, let alone as people? Seems like a lot of chances to press the flesh. Readers might not know I am friends with your brother Paul and he told me often of touring bands coming through like Screaming Trees and people he befriended over the years working bars.
BM: The Boston rock club scene has gone through some highs and lows over the years, with more venues closing than opening. Although there are a few clubs that have opened over the past few years that have great shows like the Sinclair and Once Ballroom (which is where we're having our record release show).
As far as bands in the area, we've had so many great acts come and go that have ultimately contributed to my taste in music. Going to see local bands on a regular basis and also crossing paths with bands in the rehearsal spaces has really built quite a community in the Boston music scene. Also, with Boston being a coastal town and close to NYC we get a fair amount of national and international bands coming through Boston on a regular basis.
Another big factor that keeps me connected to new music is radio in Boston. WMBR the station affiliated through MIT, has great radio shows that I discover new bands from all the time and hear about live shows via their concert report. Boston Emissions is a radio show on WZLX that plays only local music on Sunday nights from 10:00 to midnight. Boston Emissions also hosts the historic Rock and Roll Rumble music competition (coincidentally we won it this year!).
Yup, I have fond memories of my brother bringing me to see bands like Cosmic Psychos, Screaming Trees and Sonic Youth as a youngin!
What's coming up for you guys that you are excited about? Just planning to tour til the wheels fall off or what?
BM: Well, we've been focusing on the record release and all the details that go into that for most of the summer. We're playing a few local and regional shows over the next couple of months but the general plan is to try to get overseas and hopefully play some festivals etc. You know, world domination and all that jazz!