In case you haven't had the thrill of seeing West Coast bluesy doom champions Witch Mountain in awhile, their new singer Kayla Dixon is a boss. Everyone wondered the fate of the band after Uta Plotkin left, but Dixon bravely assumed command of the mic and has boldly sung her heart out as the respected act head into new chapters. Playing to bigger and bigger crowds these days, Witch Mountain are one of the most vital cogs in the wheel of the real scene.
To hold us over until new material, I reached out to Kayla and asked if she could let us know some of her biggest vocal influences that shape her approach. Check out her answers below plus the band scorching through a live performance I dug up on Youtube. Hails! \m/
Read more below.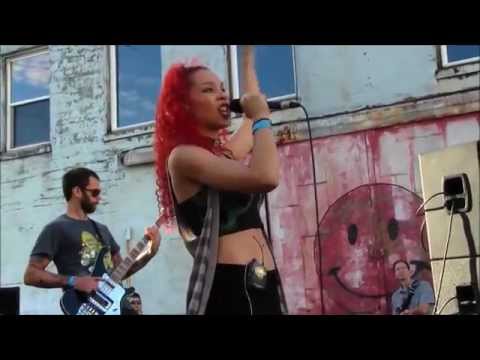 Kayla: There are so many musicians that have been an inspiration to me, but here are five that have had the largest influence of my vocal style.
5.Ella Fitzgerald
Ella has been a big inspiration for me vocally since I first heard her scat. I look to her for inspiration in a technical way. One of the first things I noticed was her impeccable diction. That's something that I really respect in a vocalist and I try to emulate that as much as I can. I often find myself struggling to understand what singers are saying and when your doing harsh vocals, diction is a must. I also admired her improvisational ability, specifically in her scatting. I try to include a lot of that in the Witch Mountain songs because I think it adds to the blues aspect of our sound. I also try to mirror what Rob does with his guitar and sometimes that calls for vocal improvisation. There's also just something special about her tone, her voice reminds me of a saxophone and I think its awesome!
4.Mikael Akerfeldt
I admire Mikael for his ability to go from this beautiful , clean ( almost Jazzy) vocal style to this guttural growl. He represents to me both sides of the spectrum. When he's doing clean vocals, they're practically flawless and when he does harsh vocals, they're almost all vocal distortion with barely any clean tone coming through. I try to model my harsh vocals after him going for a completely distorted growl rather than a raspier clean tone.
3.Rob Halford
As a metal vocalist, it's very important to have a voice that can cut through with a lot of power. Rob Halford's voice not only has power, but his high soaring vocals are unmatched by any other metal vocalist in my opinion. The ease with which he floats into his upper register is amazing. Singing should always feel easy if you're doing it correctly. That's not to say that it doesn't take hard work, but there is a difference between straining your voice and using the proper muscles to achieve a healthy tone. I am constantly amazed by his control and effortlessness.
2.Whitney Houston
Whitney Houston is one of those vocalists that will always stick with me as one of my very first inspirations. Her vocal range and tone are amazing and she had an amazing ability to switch dynamics from powerful to soft. Her effortless command of the stage is also something that I'll always strive to achieve.
1. Marilyn Manson
Marilyn Manson is number one on my list not because he's the best technical vocalist out there. He's number one on my list because of his ability to use his voice to convey a range of emotions. With a slight change of inflection, adding a touch of rasp to the note, and the presence or absence of vibrato among many other techniques, he is able to tap into deep emotion. His stage presence is also something I will always admire. Theatricality is something that attracts me as a fan and fellow vocalist and his ability to put on an amazing show can't be questioned. Again these are only my top 5 , but I could go on and on ( Angela Gossow, Peter Steele, Chris Cornell etc.). The main things I look for in a vocalist are technical proficiency and an ability to convey real emotion. All of these vocalists combine the two which makes them amazing. I strive to match their skill level and vulnerability on stage as much as I can.
Photo by Ignacio Orellana