Florida death metal mainstays Obituary have released a live version of their song "Intoxicated".
"Intoxicated" originally was released on Slowly We Rot and the live version will be released on the upcoming Obituary album Ten Thousand Ways To Die.
Obituary comments on "Intoxicated (Live)":
"Intoxicated' is one of the 12 songs that we recorded while on the road with Cannibal Corpse during the U.S. run of the Inked in Blood World Tour. We had the luxury of having a full ProTools recording rig on the road with us thanks to Joe Cincotta from Full Force Studio who will be producing the new album with us and also happens to be our live sound engineer in America."
Head over to Loudwire to hear the live version of "Intoxicated".
Check out Obituary tour dates here.
OBITUARY Live:
***All Dates with Exodus, Prong and King Parrot***
Oct 21 Hannover, DE Capitol
Oct 22 Lille, FR Aeronef
Oct 23 Rennes, FR L'Etage
Oct 24 Paris, FR Elysée Montmartre
Oct 25 London, UK Electric Ballroom
Oct 27 Glasgow, UK Garage
Oct 28 Manchester, UK Academy 2
Oct 29 Birmingham, UK 02 Academy 2
Oct 30 Southampton, UK Engine Rooms
Nov 01 Antwerp, BE Trix
Nov 02 Tilburg, NL 013
Nov 03 Leuuwarden, NL Neushoom
Nov 04 Cologne, DE Live Music Hall
Nov 5 Aarhus, DK Voxhall
Nov 6 Copenhagen, DK Pumpehuset
Nov 08 Dortmund, DE FZW
Nov 09 Berlin, DE Huxley's
Nov 10 Leipzig, DE Taubchenthal
Nov 11 Warsaw, PL Progresja
Nov 12 Katowice, PL Mega Club
Nov 13 Ostrava, CZ Garaz
Nov 15 Bucharest, RO Arlene Romane
Nov 16 Budapest, HU Durer Kert
Nov 17 Zagreb, HR Tvornica Club
Nov 18 Vienna, AT Arena
Nov 19 Bologna, IT Zona Roveri
Nov 20 Zurich, CH Komplex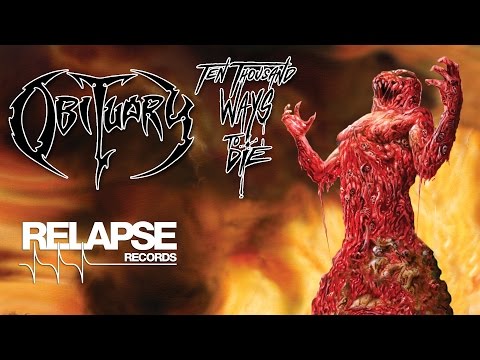 Ten Thousand Ways To Die Tracklisting:
1. Loathe
2. Ten Thousand Ways To Die
3. Redneck Stomp (Live – The Mayan – Los Angeles)
4. Centuries Of Lies (Live – The Masquerade – Atlanta)
5. Visions In My Head (Live – Baltimore Soundstage – Baltimore)
6. Intoxicated (Live – Revolution Center – Boise)
7. Bloodsoaked (Live – Irving Plaza – New York)
8. Dying (Live – Metro – Chicago)
9. Find The Arise (Live – Opera House – Toronto)
10. Til Death (Live – House Of Blues – San Diego)
11. Don't Care (Live – Club Red – Phoenix)
12. Chopped In Half-Turned Inside Out (Live – The Ritz Ybor – Tampa)
13. Slowly We Rot (Live – Revolution Live – Fort Lauderdale)