West Virginian hellraisers Cognition are back with one of our top 5 records still to come in 2016 that we're psyched for. It is the progressive minded metal act's sophomore release and is called Procession Of Thoughts. This album has stuff that could appeal to a wide range of fans from everything from Exist Immortal to The Word Alive to much heavier stuff.
Procession of Thoughts follows the band's 2014 self-titled debut album that put the band on the metal scene's radar as a band to watch. Featuring vocalist Calvin Wilson, drummer Evan Michael, Joey Welsh on bass, and guitarists Jared Gaminde and Tyler Vincent, the band once again tapped producer Jeff Westlake of Ridgeline Production Studios (Hydrogyn, Tracy G and Craig Goldy of Dio fame, The Godz) who engineered and mixed Procession of Thoughts.
Today we are thrilled to give the guy's some more shine and host this exclusive premiere of their new track "Reconnect" so you can hear what the buzz is about. "As a band, Procession of Thoughts represents a coming of age and a conscious reminder of what got us playing in the first place," says guitarist Tyler Vincent. "We approached the writing process focused on delivering a cohesive album for the listener and not just ourselves. We believe our collective spirit is captured in each of the nine tracks and we can't wait for you all to hear it!"
I dig how the intro sort of reminds me of Steve Vai making sweet love to Unearth or something conceptually crazy before the more melodic almost Glassjaw-esque verse vocals top a steady and precise build from the band that explodes at 1:43 into a shove your friends very metalcore section that will stoke guitar tone snobs and mosh fans alike. You'll also dig the fired up solo at the end over some djent type vibes.
The powerful song is available on iTunes as an Instant Grat track with the album pre order HERE. Procession of Thoughts will be released independently via iTunes, Amazon, Spotify, and Google Play.
Check out "Reconnect", the monster second track on this baby, BELOW.
 Photo credit: Jody Domingue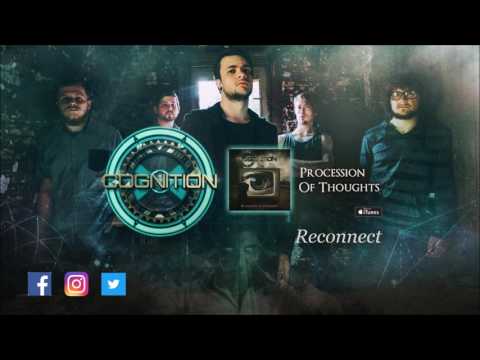 Upcoming COGNITION shows:
October 24 - Mountainlair (West Virginia University) – Morgantown, WV
October 29 - The Dojo – Fairmont, WV (With Footage of a Yeti)